Interview: Goran Dukic on WRISTCUTTERS: A LOVE STORY
Goran Dukic's film Wristcutters: A Love Story will screen at Edinboro University of Pennsylvania on Nov. 1 at 8:30 p.m. This story of an afterlife world exclusively for suicide victims makes for an odd, yet wonderfully humorous film experience that can be compared to classics likeBeetlejuice and The Wizard of Oz.Wristcutters, however, is a film of its own, as would be any film that could be compared to Oz and Beetlejuice in the same sentence. Not quite a black comedy and not quite a fantasy, it's one of those rare films that defies categorization. Discussing his motivation for the film, the fantastic soundtrack and why he liked the genre defying story is Goran Dukic, director of Wristcutters: A Love Story.
TheFilmChair: What was it about the novella that made you want to make it into a film?
Goran Dukic: I liked the story. I liked how funny it was despite its dark setting. I liked the characters and their frame of mind. I liked their motivation and all the humor, the mixture of sad and happy. It was just my kind of a story.
FC: Were the little quirks, the starless sky in this world where people who've committed suicide go to, the inability to smile, were those part of the novella?
GD: No they were not. I mean I like the story so I tried to preserve the feel of the story and the characters, but there were a lot of things I added.
FC: Were there any major story contributions that you made too? Adding a character or anything like that?
GD: I haven't added a character and I haven't changed the story in a major way, but those little things you mention and the black hole and the framing of the story itself, they are mine.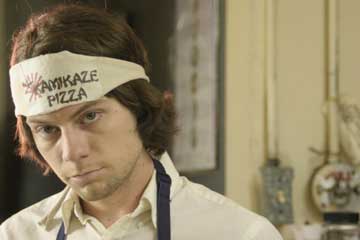 FC: What were you looking for when you started to imagine this world, location-wise?
GD: The city part we shot in downtown L.A. and most of the landscapes were shot in Antelope Valley near Palmdale and Lancaster. It was very important because we were a low budget movie so we couldn't create the look of the locations so we drove a few miles north to scout locations. It wasn't that hard to find them because we were looking for the beat up part of the town and a lot of junkyards and deserts. And there's plenty of that around L.A.
FC: The afterlife they are living in, the irony is that it does have such an uplifting turn. Do you think that these characters are happier in this afterlife? Is that what you are trying to convey, that they are more active?
GD: They are all searching for something to make their lives have meaning again. They could have searched in this world, before they killed themselves. But there are problems wherever you go and you have to solve them. If you work on your problems and look for what you need then there is a chance to find it. If you don't then there is no chance.
FC: I wanted to ask you about the song by Eugene's band, the song Underground. Was that an original song for the film?
GD: No, it's a New York band called Gogol Bordello. We used three songs from them and they are all on Eugene's tape. They are getting more and more popular and they are from New York. I had in mind this band while writing the script to be Eugene's kind of band. All of Eugene's music is basically from Gogol Bordello.
FC: Is there a soundtrack going to be released?
GD: Probably after the movie is released, which will probably happen next year. The thing about Gogol Bordello is they have CDs out so they are available nationally.
FC: It's an odd little romance, the world that these character live in and the world that you make. You've assembled a significant cast for it with Patrick Fugit, Shannyn Sossamon, Will Arnett. Were you looking for a cast of this caliber or did the screenplay attract some of these people to the film?
GD: It was more the screenplay because we didn't have any money. All of the people who were in the movie were in it because they liked the screenplay. They liked the roles. Nobody was in it for the money, but they all gave the maximum.
FC: The film doesn't have distribution yet, though you said that you were hoping to get it next year. Was there any reason it didn't immediately break out from Sundance? I remember reading the David Poland review saying that this film had the potential to be a Napolean Dynamite or aGarden State.
GD: It's a pretty tough time for independent movies. If it doesn't fit into the mainstream or is very different, then distributors are really hesitant. This movie doesn't fit in a comedy kind of drawer. It doesn't fit into the mainstream genres so the distributors feel pretty confused.
FC: It does defy the common elements of genre. How do you see the movie? 
GD: It's not just about a genre. It's also something controversial and has a taboo subject, especially if you treat it in a humorous way. I like the way it's treated. That's why I liked the story. In the end I believe the movie is very uplifting. I wouldn't place it in a genre. Movies don't have to fit in a genre; you just make them how you want to make them. People try to categorize them, but I didn't set out to make a genre movie.
Tickets for the EUP screening of Wristcutters: A Love Story with Guest Goran Dukic and Shea Whigham visit www.EdinboroTickets.com.